For a short period of time in the 1870's and 1880's, the Post Office and War Departments of the United States Government were issued and used special stamped envelopes.  The intent was to force them to account for their use of the mails and to thereby curb costs.
            These stamped envelopes were to be used only for official mail, beginning July 1,1873.  
            The official stamped envelopes were made by the same contractor currently producing stamped envelopes for use by the general public, since time constraints did not allow for competitive bids or the negotiation of a special contract.  They were initially produced by George H. Reay in Brooklyn, N.Y., with the same characteristics of knife, gum, and watermark as the ordinary stamped envelopes of the time.  The stamped envelopes for the Post Office Department were printed on canary (yellow) paper as a means of distinguishing Post Office business from ordinary mail (Figure 1).
  Standard paper and paper colors were used for the War Department envelopes (Figure 2).
            Approximately  500,000 2-cents, 10,000,000 3-cents and 250,000 6-cents Post Office stamped envelopes were issued by Reay.  The number of Reay War Department stamped envelopes issued is given as:  2,000 1-cent; 2,100 2-cents; 314,500 3-cents; 18,000 6-cents; 500 10-cents; 5,800 12-cents; 1,500 15-cents; 1,000 24-cents; and 600 30-cents.  Additionally, approximately 2,000,000 1-cent and 300 2-cents  wrappers were issued by Reay for the War Department. 
            In October 1874, the envelope contract was awarded to Plimpton Manufacturing Company of Hartford, Conn.  As part of that contract, official stamped envelopes were prepared in all denominations issued under the previous contract with exception of the 24-cents War Department envelope.  The Post Office Department envelopes were produced on additional papers:  the 2-cents and 6-cents stamps appear on canary and white, while the 3-cents is found on canary, white, amber, and blue.  The white paper stamped envelopes were used exclusively for registered business (Figure 3),
 while the amber paper stamped envelopes were used exclusively for Canadian money order business (Figure 4).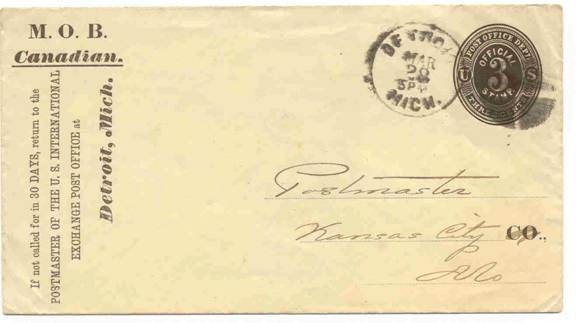 The War Department envelopes were again printed on standard paper and standard paper colors were used.
            The total number of Plimpton-issue Post Office Department stamped envelopes is unknown, but combining the records of purchase in Bill Books No. 1 and No. 2 for quarters ending December 31, 1874, through June 30, 1879, and assuming a proportion of stamped envelope denominations similar to the Reay-issue, the estimated quantities are:  3,000,000 2-cents, 59,000,000 3-cents, and 1,500,000 6-cents.  The total number of Plimpton-issue War Department stamped envelopes is given as:  725 1-cent; 10,150 2-cents; 2,382,000 3-cents; 20,575 6-cents; 345 10-cents; 5,825 12-cents; 420 15-cents and 535 30-cents.  Of the Plimpton-issue War Department wrappers, slightly more than 17,500,000 of the 1-cent and almost 2,000 of the 2-cents were issued.
            During this time, official weather forecasts were made under the direction of the War Department.  A great  many of both the Reay-issue and Plimpton-issue War Department 3-cents stamped envelopes were used by postmasters to report receiving and posting of weather forecasts.  Usage's can be found from towns in almost every state and territory of the Union, showing a great variety of cancellations (Figure 5).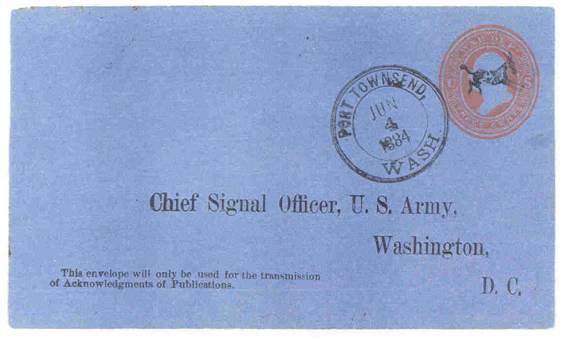 These envelopes bore the preprinted address of the Chief Signal Officer, U. S. Army at Washington, D.C.
            In 1877, a special die was prepared by the Morgan Envelope Company of Springfield, Mass., for printing non-denominational official envelopes for the Post Office Department.  The design is oval in shape, with "UNITED" on top and "STATES" below.  "POSTAL SERVICE" appears on a horizontal and across the center.  There is no stated value (Figure 6).
 These envelopes were prepared because the Congressional Act of March 3, 1877, provided that any letters or other mail matter relating exclusively to  the business of the Government of the United States could be sent without postage provided the envelope bore the words "Official Business," the name of the department, and a clause stating that a penalty of $300 would be charged for using the envelope for other than official matters.  These embossed stamped envelopes were first printed on amber and blue paper with the indicia in blue, and later on white and amber paper with the indicia in black.  The amber paper envelopes were used exclusively for the Dead Letter Office.(Figure 7)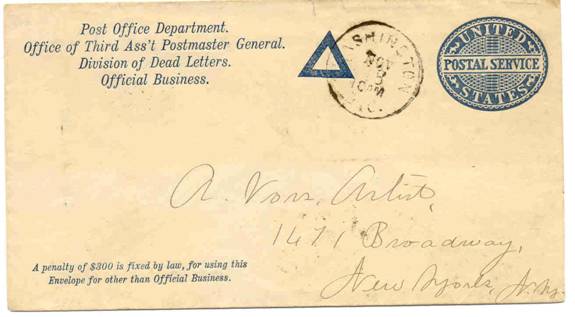 These Postal Service envelopes, which are really "penalty" envelopes, probably were first used in early August of 1877.
            The total number of Postal Service official stamped envelopes issued is unknown, but utilizing post Office Department accounting records (Stamp Bill Book No. 2, 1876-1879), it is estimated that slightly less than 3,000,000 each of the blue indicia (Scott UO16) and black indicia (Scott UO15) on amber paper envelopes were issued.  Probably more of the blue paper and white paper stamped envelopes were issued.
            Postal Service Dead Letter Office stamped envelopes are known used from Washington, D.C., between September 1877 and July 1882.  Other Postal Service stamped envelopes were used from Washington, D.C., into 1884 and several years thereafter as regular penalty envelopes.
            Some of the Postal Service stamped envelopes were used to mail shipments of the special printings of United States stamps to stamp collectors and dealers from 1877 to 1884. (Figure 8)
Late Usage's
            The use of Post Office Department stamped envelopes and postal service envelopes continued concurrently until the end of April 1879.  At that time, the issuing of Post Office Department stamped envelopes was discontinued, but it was directed that the use of official stamped envelopes be continued until the supply was exhausted before any of the new stampless penalty envelopes were ordered. The regular use of the War Department stamped envelopes continued longer than the Post Office Department stamped envelopes.  War Department stamped envelopes were printed and issued as late as 1882
An order from the Postmaster General to postmasters dated July 18, 1884, announced that the "use of official postage stamps and official stamped envelopes is discontinued.  Such stamps and envelopes are not to be recognized in the future in payment either of postage or registry fee."
Rarity of the Official Stamped Envelopes
            The most striking fact about the Official Stamped Envelopes is the large number of 3-cent envelopes issued and the small quantities of the other denominations that were issued, especially to the War Department.  When one considers the number of envelopes that must have been cut out for the cut square collector with the actual number of envelopes that were issued, there can be no doubt that in many instances, these entires are among the greatest of envelope rarities.